HE the High Commissioner for the Islamic Republic of Pakistan to the UK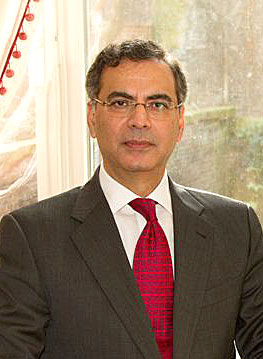 His Excellency Moazzam Ahmad Khan assumed the charge of the office of High Commissioner for Pakistan to the United Kingdom on 14 September 2020.
Mr Khan's diplomatic career spans over three decades. Prior to his current assignment, he was serving as Special Secretary in the Ministry of Foreign Affairs.
He held various diplomatic assignments in Pakistan Missions abroad including Washington, Nairobi, The Hague and New Delhi. Besides, he served as Ambassador of Pakistan to The Netherlands and the United Arab Emirates.
At the Ministry of Foreign Affairs, he served as Director General (Europe), Director General (Foreign Minister's Office) and Spokesperson.
He holds Master's degree in Economics as well as Master's degree in International Relations and International Economics from Johns Hopkins University, USA.
Past Honorary Presidents
2018 – 2020
Mohammad Nafees Zakaria
2014 – 2018
HE Syed Ibne Abbas
2008 – 2014
HE Mr Wajid Shamsul Hasan
2003 – 2008
HE Dr Maleeha Lodhi HI
2000 – 2003
HE Mr Abdul Kader Jaffer TK
1999 – 2000
HE Prof Akbar S Ahmed
1996 – 1999
HE Mian Riaz Samee
1994 – 1996
HE Mr Wajid Shamsul Hasan
1993 – 1993
HE Mian Riaz Samee
1990 – 1992
HE Dr Humayun Khan
1987 – 1990
HE Mr Shahryar M Khan
1981 – 1987
HE Mr Ali Arshad
1978 – 1980
HE Brig F R Khan
1978 – 1978
HE Lt Gen Akbar Khan TK
1972 – 1978
HE Mian Mumtaz Daultana
1971 – 1972
HE Lt Gen M Yousuf Khan SPk
1970 – 1971
HE Mr Salman A Ali SQA
1968 – 1970
HE Mr Mahmoud A Haroon
1966 – 1968
HE Mr S K Dehlavi
1963 – 1966
HE Mr Agha Hilaly HI
1959 – 1963
HE Lt Gen M Yousuf Khan SPk
1955 – 1959
HE Mr Mohammed Ikramullah CIE
1951 – 1954
HE Mr Mirza A H Ispahani
(1947) – 1951
HE Mr Habib I Rahimtula