HE the High Commissioner for the Islamic Republic of Pakistan to the UK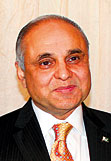 His Excellency Syed Ibne Abbas was appointed High Commissioner for Pakistan to the UK in October 2014. Before that he had served at the Ministry of Foreign Affairs in Islamabad as the Additional Foreign Secretary.
From 2010 to 2013, Ambassador Abbas was High Commissioner to New Zealand, and from 2006 to 2010 he was Consul General of Pakistan at Los Angeles, USA. He has also served a Director General (South Asia & SAARC), and as Deputy Secretary at the Prime Minister's Secretariat, and held various diplomatic assignments at Pakistan Missions abroad including those in New Delhi, Canberra, Geneva and Berne.
Past Honorary Presidents
2008 – 2014
HE Mr Wajid Shamsul Hasan
2003 – 2008
HE Dr Maleeha Lodhi HI
2000 – 2003
HE Mr Abdul Kader Jaffer TK
1999 – 2000
HE Prof Akbar S Ahmed
1996 – 1999
HE Mian Riaz Samee
1994 – 1996
HE Mr Wajid Shamsul Hasan
1993 – 1993
HE Mian Riaz Samee
1990 – 1992
HE Dr Humayun Khan
1987 – 1990
HE Mr Shahryar M Khan
1981 – 1987
HE Mr Ali Arshad
1978 – 1980
HE Brig F R Khan
1978 – 1978
HE Lt Gen Akbar Khan TK
1972 – 1978
HE Mian Mumtaz Daultana
1971 – 1972
HE Lt Gen M Yousuf Khan SPk
1970 – 1971
HE Mr Salman A Ali SQA
1968 – 1970
HE Mr Mahmoud A Haroon
1966 – 1968
HE Mr S K Dehlavi
1963 – 1966
HE Mr Agha Hilaly HI
1959 – 1963
HE Lt Gen M Yousuf Khan SPk
1955 – 1959
HE Mr Mohammed Ikramullah CIE
1951 – 1954
HE Mr Mirza A H Ispahani
(1947) – 1951
HE Mr Habib I Rahimtula