News and events that may be of interest to our members:
---
First Woman to Reach Earth's Highest and Lowest Points Carries Pakistan's Flag
Mountaineer becomes Aquanaut 12 June 2020 Pacific Ocean, Federated States of Micronesia

Ms. Vanessa O'Brien has taken Pakistan's Flag to the deepest point in the ocean named Challenger Deep, at 10,925 meters, in the Mariana Trench. If Everest were put in the Mariana Trench, it would still be 2 km under water. During this descent she became the first woman to reach Earth's highest and lowest points, a Guinness World Record, and one she shares with Victor Vescovo, the submersible pilot of her dive.
The primary purpose of exploring Challenger Deep is to map the eastern seabed, collect water and rock samples, and to take scientific measurements. High Commissioner for Pakistan to United Kingdom, Nafees Zakaria, congratulated Vanessa O'Brien, the Goodwill Ambassador of Pakistan, who became the first British or American woman to conquer the highest peak of Karakoram K-2 Pakistan in 2017, on her successful mission to "Challenger Deep". Zakaria said, the Government and people of Pakistan are proud of your achievement.
Vanessa was presented a ceremonial flag of Pakistan by Ms. Durdana Ansari, OBE Hon. Cdr Royal Navy, on behalf of the High Commissioner, which Vanessa displayed at her destination located about 200 miles southwest of Guam. She took a smaller Pakistan flag down in the submersible with her.
In a joint statement today, Durdana said, "I feel absolutely honored to be part of this expedition, and proud to bear witness to this historic event. I hope this flag's incredible journey to this extraordinary place brings good luck for Pakistan." Vanessa added, "It is an honor to carry the Pakistani flag on this journey. Oceans are cleansing, churning, constantly renewing, and incredibly strong. Just like Pakistan. Pakistan Zindabad."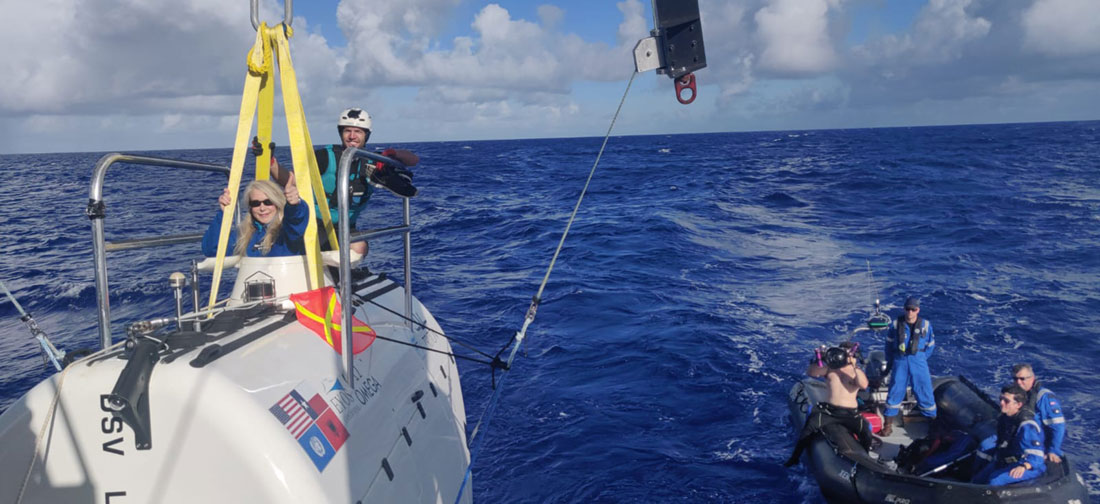 ---
THE RAJ RE-EXAMINED: a series of five lectures on British India

Presented by the BRITISH ASSOCIATION FOR CEMETERIES IN SOUTH ASIA
in association with the South Asia Centre, London School of Economics
Thursday 5 December
India's Great War: Forgotten Personal Stories of 1914-18
What part did the Indian Army play in the First World War, and how significant was it? British historian George Morton-Jack finds new answers in a lecture that recounts the story of India's Great War through the forgotten personal stories of officers, men and those they left behind. George Morton-Jack is the author of the acclaimed The Indian Empire at War, the first global history of the Indian Army 1914-18, and will explore the experiences of participants across the fronts of Europe, Africa and Asia. Attendees whose ancestors served with the Indian Army in the First World War are invited to meet at the reception following the lecture. Please email bacsalectures@gmail.com if you wish to attend.
Thursday 6 February
Lord Curzon's Lament: India and the British World, 1857-1947
India was often seen by Old India Hands as the quintessential expression of British Imperialism—a view that modern commentators are quick to endorse. But that was not what many contemporaries thought—and with good reason. This lecture by Professor John Darwin will suggest some of the reasons why. John Darwin is a Senior Research Fellow at Nuffield College. He retired in 2019 as Professor of Global and Imperial History, University of Oxford, and is an internationally renowned historian of empires, and of the British Empire, and a Fellow of the British Academy.
Thursday 12 March
She-Merchants, Buccaneers and Gentlewomen
The first British women set foot in India in the early seventeenth century. It is well known that some went to India to find husbands but what is almost unknown is that they also worked as traders, cloth merchants, milliners, shop-keepers, and much else besides. Katie Hickman, bestselling author of Courtesans, Daughters of Britannia and She-Merchants, Buccaneers and Gentlewomen, examines the lives of these tough, early adventurers that challenge the stereotype of the snobbish, indolent memsahib.
Monday 6 April
Keeping Their Spirits Up Alcohol, Diet and Doctoring during the Siege of Lucknow
The journals of civilians and soldiers besieged at the Residency describe a deadly struggle to survive in the face of starvation, wounds and disease. Sam Goodman considers how the siege required greater civilian involvement in the defence of Empire than ever before and desperate measures with alcohol, diet and doctoring. Dr Sam Goodman, Principal Academic, Bournemouth University, is currently researching the role of alcohol in colonial medicine, military routine and Anglo-Indian culture, supported by a Wellcome Trust grant. He is the author of British Spy Fiction and the End of Empire and is a BBC/AHRC New Generation Thinker. Attendees whose ancestors were besieged at Lucknow or members of the besieging or relieving forces are invited to meet at the reception following the lecture. Please email bacsalectures@gmail.com if you wish to attend.
Monday 11 May
The Railways of the Raj
Britain built India's railways. Often portrayed as an act of colonial benevolence, the truth is more complex. In this lecture Christian Wolmar explores the history of India's rail network and its role in the nation's history, explains why it was built, and shows how its development was a missed opportunity. Christian Wolmar is a distinguished railway historian and transport commentator whose books include Blood, Iron and Gold, The Great Railway Revolution and The Railways and the Raj.
TIME/PLACE/PRICE
6.30-8.30pm, Wolfson Theatre, New Academic Building, London School of Economics, 54 Lincoln's Inn Fields, London WC2A 3LJ.
Tickets £10 per lecture (£6 BACSA members, £8.50 guests of BACSA members, £5.50 students) include a glass of wine. There will be book sales after most lectures.
BOOK NOW
Online booking: http://www.bacsa.org.uk/?page_id=2180
Enquiries: bacsalectures@gmail.com
---
"Homing birds" by Rukhsana Ahmed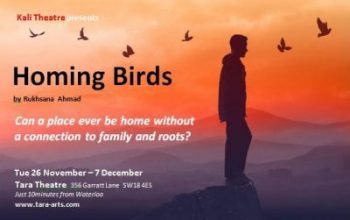 A new play by well known Pakistani British Author, Rukhsana Ahmed, and directed by Kali Theatre Company's Helena Bell. The London run is programmed to open at Tara Theatre on 26th Nov in Earlsfield, a venue which many would know as the training ground for many British Asian Thespians.
Further information and tickets available: https://www.tara-arts.com/whats-on/homing-birds
---
New North and South
A new network of eleven arts organisations from across the North of England and South Asia announced a three year programme of co-commissions, exhibitions and intellectual exchange to celebrate shared heritage across continents and develop artistic talent.
This network consists of Manchester Art Gallery, the Whitworth, Manchester Museum, Liverpool Biennial, The Tetley in Leeds and Colombo Biennale (Sri Lanka), Dhaka Art Summit (Bangladesh), Karachi and Lahore Biennales (Pakistan), Kochi-Muziris Biennale (India) and the British Council.
The New North and South aims to connect with diverse audiences on both continents through a programme of exhibitions and events that showcase the best of contemporary art from Bangladesh, India, Pakistan, Sri Lanka and the UK and also explore unequal and contested histories of empire and the industrial revolution.
http://www.whitworth.manchester.ac.uk/whats-on/events/newnorthandsouth/
---
Pakistan Flag on K2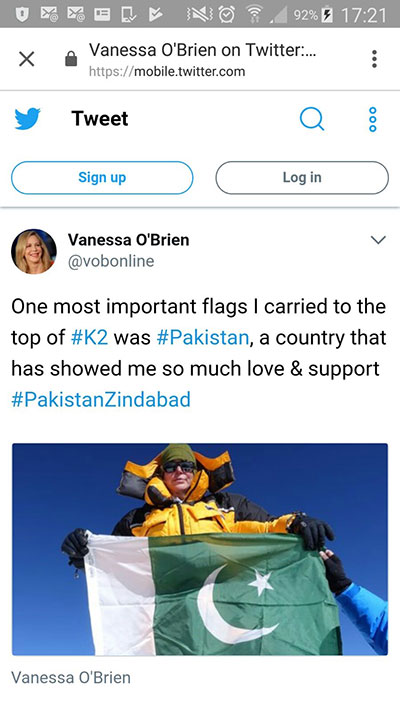 Vanessa O'Brien, is a British-American mountain climber, explorer, public speaker and former business executive. She is a Fellow of the Royal Geographical Society and a Member of The Explorers Club.
She has become the first British woman to conquer K2.
K2 is the second highest mountain in the world, after Mount Everest, at 8,611 metres (28,251 ft) above sea level. It is located on the China-Pakistan border between Baltistan, in the Gilgit-Baltistan region of northern Pakistan, and the Taxkorgan Tajik Autonomous County of Xinjiang, China. K2 is the highest point of the Karakoram range and the highest point in both Pakistan and Xinjiang (Wikipedia.org).
K2 is known as the Savage Mountain due to the extreme difficulty of ascent.
---
Syed Faizan Hussain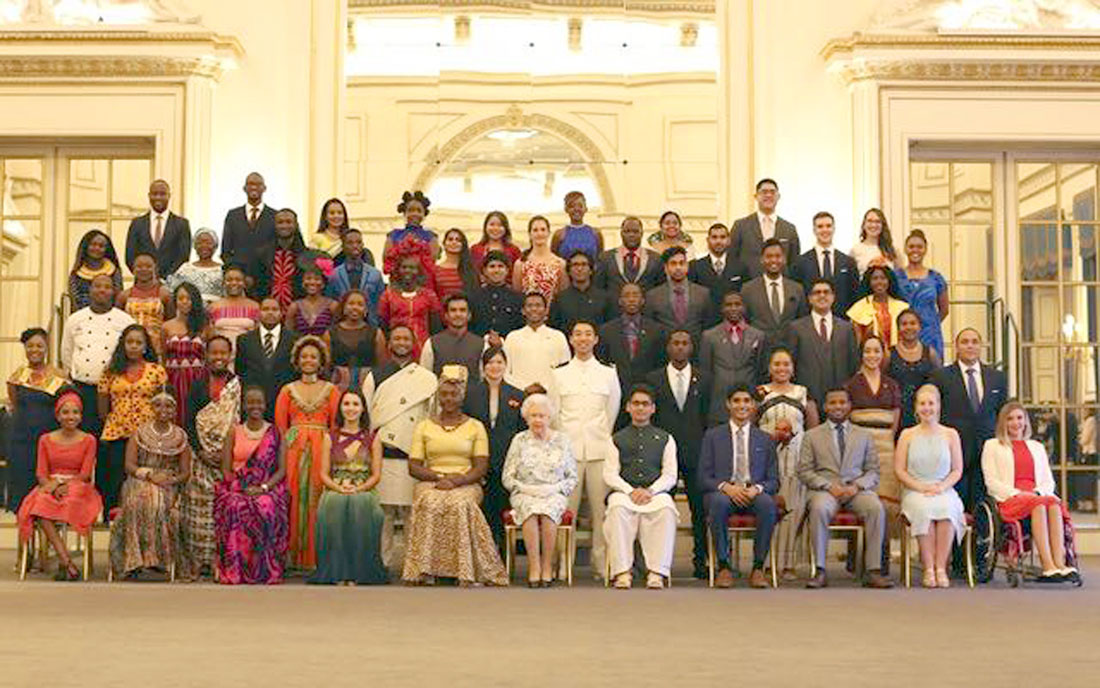 Syed Faisan Hussain is seated in the front row to the right of HM The Queen
Syed Faizan Hussain, a promising young Pakistani, is a recipient of the Queen's Young Leaders Award (QYLA).  Together with other winners, Faizan received his award from HM Queen Elizabeth II at a ceremony held at Buckingham Palace on 30 June 2017.
Faizan is a social entrepreneur who uses technology to create solutions to health problems in his community. He has developed a number of start-ups, including Edu-Aid, which translates sign language into spoken language, and OneHealth, a disease surveillance and tracking system which notifies health institutions about epidemic outbreaks.
Faizan also works as a voluntary teacher and has mentored more than 200 students from underprivileged households and equipped them with computer programming skills. Faizan is now planning to develop Venture Dart, a tech consultant and outsourcing company for entrepreneurs and small businesses.