News and events that may be of interest to our members:
---
Gary Waller
June 24 1945 – July 21 2017
The Committee Members of The Pakistan Society were very saddened to hear about the sudden death of one of our members, Gary Waller, on 22 July 2017, aged 72. He left one son, Jonathan Stockwell. He was a keen supporter of the Society, and served on the Executive Committee for many years. He was always willing to help us whenever he could do so, and was a notable Master of Ceremonies at our Annual Dinners. He will be much missed by all who knew him.
He was an MP (Conservative) for Brighouse and Spenborough from 1979 until 1983, when, after boundary changes abolished the seat, he was elected for nearby Keighley – defeating the Labour incumbent. He remained an MP until 1997.
As well as championing the West Riding's embattled woollen industry, Gary was a keen sports car racer, spoke on vehicle safety, was PPS to the Transport Secretary David Howell and promoted parliamentary Bills for British Rail.
During his time in Parliament he served as Vice Chairman of the Parliamentary Information Technology Committee, and from 1992–97, he served as Chairman of the House of Commons Information Committee, which oversaw the work of the House of Commons Library and parliamentary IT.
Out of the Commons, he became a director of Which?. Living by then in west Essex, he became president of Harlow Conservatives and in 2011 was elected to Epping Forest council, becoming its cabinet member for 'safer, greener and transport' issues – a post he held up to his death.
His funeral was held on 16 August, 2017 and the Pakistan Society was represented by the Chairman, Sir William Blackburne, and Honorary Secretary, Mrs Shama Husain. There will be a memorial in January, and we will post the date on our website as soon as it is known.
---
New North and South
A new network of eleven arts organisations from across the North of England and South Asia announced a three year programme of co-commissions, exhibitions and intellectual exchange to celebrate shared heritage across continents and develop artistic talent.
This network consists of Manchester Art Gallery, the Whitworth, Manchester Museum, Liverpool Biennial, The Tetley in Leeds and Colombo Biennale (Sri Lanka), Dhaka Art Summit (Bangladesh), Karachi and Lahore Biennales (Pakistan), Kochi-Muziris Biennale (India) and the British Council.
The New North and South aims to connect with diverse audiences on both continents through a programme of exhibitions and events that showcase the best of contemporary art from Bangladesh, India, Pakistan, Sri Lanka and the UK and also explore unequal and contested histories of empire and the industrial revolution.
http://www.whitworth.manchester.ac.uk/whats-on/events/newnorthandsouth/
---
Pakistan Flag on K2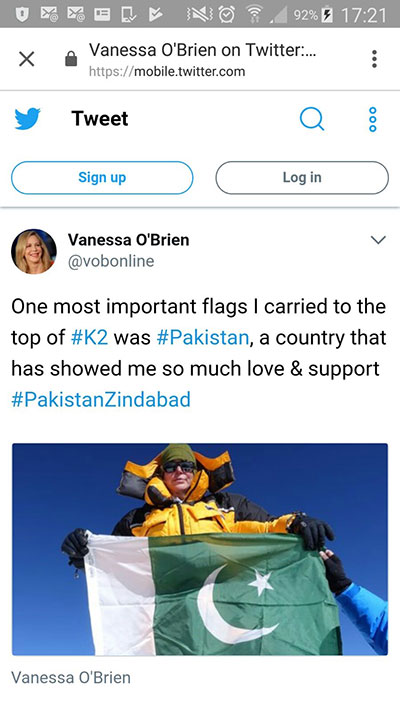 Vanessa O'Brien, is a British-American mountain climber, explorer, public speaker and former business executive. She is a Fellow of the Royal Geographical Society and a Member of The Explorers Club.
She has become the first British woman to conquer K2.
K2 is the second highest mountain in the world, after Mount Everest, at 8,611 metres (28,251 ft) above sea level. It is located on the China-Pakistan border between Baltistan, in the Gilgit-Baltistan region of northern Pakistan, and the Taxkorgan Tajik Autonomous County of Xinjiang, China. K2 is the highest point of the Karakoram range and the highest point in both Pakistan and Xinjiang (Wikipedia.org).
K2 is known as the Savage Mountain due to the extreme difficulty of ascent.
---
Syed Faizan Hussain

Syed Faisan Hussain is seated in the front row to the right of HM The Queen
Syed Faizan Hussain, a promising young Pakistani, is a recipient of the Queen's Young Leaders Award (QYLA).  Together with other winners, Faizan received his award from HM Queen Elizabeth II at a ceremony held at Buckingham Palace on 30 June 2017.
Faizan is a social entrepreneur who uses technology to create solutions to health problems in his community. He has developed a number of start-ups, including Edu-Aid, which translates sign language into spoken language, and OneHealth, a disease surveillance and tracking system which notifies health institutions about epidemic outbreaks.
Faizan also works as a voluntary teacher and has mentored more than 200 students from underprivileged households and equipped them with computer programming skills. Faizan is now planning to develop Venture Dart, a tech consultant and outsourcing company for entrepreneurs and small businesses.
Sponsors & Supporters